I made this card for the national swap that I participate in. So many new fun stamps, accessories that I got to play with.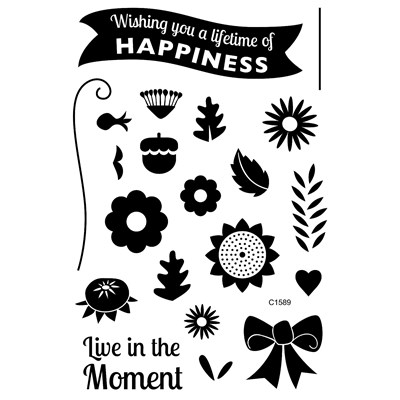 Isn't this a fun set? Lifetime of Happiness (C1589 $13.95) is a set of 21 stamps....yes, 21 stamps for $13.95!!
As you can see I took the banner and added 4 layers of mounting tape behind the curve to give it dimension.
New Gold Shimmer Trim is cut in half lengthwise for just a little something-something
I stamped the flower onto colored cardstock (Canary cs with Autumn Terracotta ink) then punched out the center. Used mounting tape to pop the center. Also used a hole punch to add the Canary cs for the center of the little Glacier inked flowers, also with mounting tape behind it to pop it too.
I love how this card turned out...hope you do too!
Enjoy your day!!